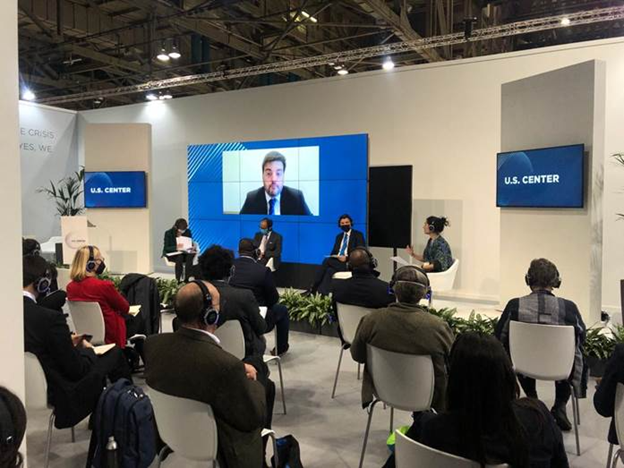 The session was held on 8 November 2021 at 1000-1100 GMT at COP26, Glasgow, the United Kingdom
The session brought together policy makers to deliberate on the urgent need for adoption of national policies and the role of national governments in incorporating disaster and climate risks into energy infrastructure investment decisions transitioning to greener pathways
The session also discussed the roles of developed nations, private sector, investors and international organisations like CDRI and IEA in supporting transitions to climate and disaster resilient energy infrastructure of the future.
New Delhi, 8 November 2021: The Coalition for Disaster Resilient Infrastructure (CDRI), today, hosted a session on 'Power-up: Factoring Resilience into Transitioning Energy Infrastructure' at the US Center, 2021 United Nations Climate Change Conference (COP26), in Glasgow, the United Kingdom. Discussions at this session reflected on ways in which countries can ensure the safety and reliability of green energy infrastructure in light of changing climate and disaster risk patterns. Discussions also revolved around the peculiar challenges of developing countries with energy access disparities and the developed countries with high levels of resilience in current power infrastructure systems. The session explored ways in which countries can support developing countries, especially Small Island Developing States (SIDS) and Least Developed Countries (LDCs), in leapfrogging to future ready systems, while also achieving the UN Sustainable Development Goal of "leave no one behind."
The session began with a keynote by Samantha Power, Administrator of the United States Agency for International Development (USAID), while other panelists included Francisco López, Vice Minister of Energy, Ministry of Energy, Government of Chile; James Larsen, Climate Coordinator, Deputy Secretary at Department, Prime Minister and Cabinet, Government of Australia and Kamal Kishore, Member Secretary, India's National Disaster Management Authority (NDMA) and Indian Co-Chair of CDRI Executive Committee. The session was moderated by Sara Moarif, Head of Environment and Climate Change Unit, International Energy Agency (IEA).
With US committed to partnering with CDRI, Administrator Samantha Power spoke about the need to ensure that energy infrastructure withstands climate shocks that are increasing upon us. She highlighted that the benefits of making new infrastructure more climate resilient will outweigh the costs by as much as 4 to 1. She added, "We want all the things we build to stand up to climate change. All buildings, bridges, roads and facilities, yet the infrastructure that powers our lives is decidedly different. When energy infrastructure functions, it has the ability to propel human productivity and lift people out of extreme poverty. When absent, it chokes economic activity and limits pathways for people, especially women to earn a living." She went on to add that, "We need new power generating infrastructure, but we also need the energy generating infrastructure to be renewable so it doesn't emit greenhouse gases and contribute to further heating. If the world is to get to net-zero emissions by 2050, then two-thirds of the total energy supply in 2050 must come from renewables. Electricity will have to be at the core - electric cars, electric trucks and transport, electric heaters and air pumps. We must become far more reliant on electricity which means electricity must become far more dependable. That's why we need renewable energy infrastructure to be resilient to changing climate. Supporting the development of renewable and resilient energy infrastructure will boost economic development, especially for the most marginalized. It will improve energy security and cut down on disruption and it will protect both critical infrastructure and our planet."
James Larsen, Climate Coordinator, Deputy Secretary at Department, Prime Minister and Cabinet, Government of Australia shared that Australia has recently doubled its climate finance and 70 percent of that climate finance goes into adaptation measures and a good proportion of that is invested in energy resilience. He added that, "Due to bushfires, excessive heat periods or floods, there is a breakdown of established and traditional energy systems. Thus, there are three things that Australia needs to focus on: Ensuring that we continue to invest in development of technology which will help us address these challenges; ensuring deployment of technology in ways which will continue the supply; and as a developed economy, ensuring that less developed economies have the finance and technology made available to them, so those economies are able to maintain continuity and energy supply, notwithstanding changing circumstances."
Francisco López, Vice Minister of Energy, Ministry of Energy, Government of Chile spoke about Chile's exposure to climate and disaster risks and shared Chile's targets for 2030. He added that, "Chile has set four complementary pathways: To clean the electricity generation capacity by increasing the amount of renewable energy, the aim is to reach 80 percent renewable generation before 2030 (in 2018 was 44 percent); withdraw coal fire plants by 2040; promote energy efficiency by mainly construction of equipment; and replace fossil fuels with electricity into transport sector (aiming to have 100 percent electric vehicle sales of light and medium vehicles by 2035)."
Member Secretary India's NDMA and Indian Co-Chair of CDRI Executive Committee Kamal Kishore shared that while we expand solar, wind, and other renewable systems, we must make sure that these power systems of the future are resilient. He added that, "It is important that we bring to bear the best possible analytics in planning these systems (climate information analytics). As energy systems transform, their governance changes, so we also need to know what it means for risk governance in power sector for the future and to make sure that standards and regulations keep pace with the growth (engineering standards, panels, performance standards)."
As Sara Moarif, Head of Environment and Climate Change Unit, IEA said in her introduction to the session, "We are here at COP26, a place where countries are working to reduce their greenhouse gas emissions which involves transitioning to new ways of producing and consuming energy. We have seen a lot of commitments in that direction but all of that is happening in the context of a world that's warming with changing climate patterns, precipitation patterns, different heat wave and much more frequent weather events. These types of events are direct risks to energy infrastructure, particularly electricity infrastructure which is relevant, given the increased importance of electricity in the context of clean energy transitions and decarbonized electricity."
Countries around the world are in the process of defining national plans and policies aimed at achieving 'Net Zero' through a transition to cleaner non-polluting energy systems, improving energy efficiency, and decarbonization. However, changing climate patterns like rising temperatures, varying precipitation patterns and more frequent extreme weather events are posing significant risks to energy infrastructure investments worldwide. In this context, adapting energy systems and improving their resilience becomes vital for long-term sustainability. Although energy suppliers have a direct interest in protecting their assets against natural hazards, the true costs of climate impacts and benefits of climate resilience do not get accurately assessed or quantified. Governments must lead the way in accounting for these costs and benefits through effective policy measures and incentivizing research and measures that enable the adoption and implementation of disaster and climate resilience considerations in energy systems.
About CDRI:
Launched by Hon. Prime Minister Shri Narendra Modi at the UN Climate Action Summit at New York on 23 September 2019, the Coalition for Disaster Resilient Infrastructure (CDRI) is a partnership of national governments, UN agencies and programmes, multilateral development banks and financing mechanisms, the private sector, and knowledge institutions that aims to promote the resilience of new and existing infrastructure systems to climate and disaster risks in support of sustainable development.
CDRI promotes rapid development of resilient infrastructure to respond to the Sustainable Development Goals' imperatives of expanding universal access to basic services, enabling prosperity and decent work.