For Immediate Release
CDRI Pioneers a Biennial Report on 'Global Infrastructure Resilience: Capturing the Resilience Dividend'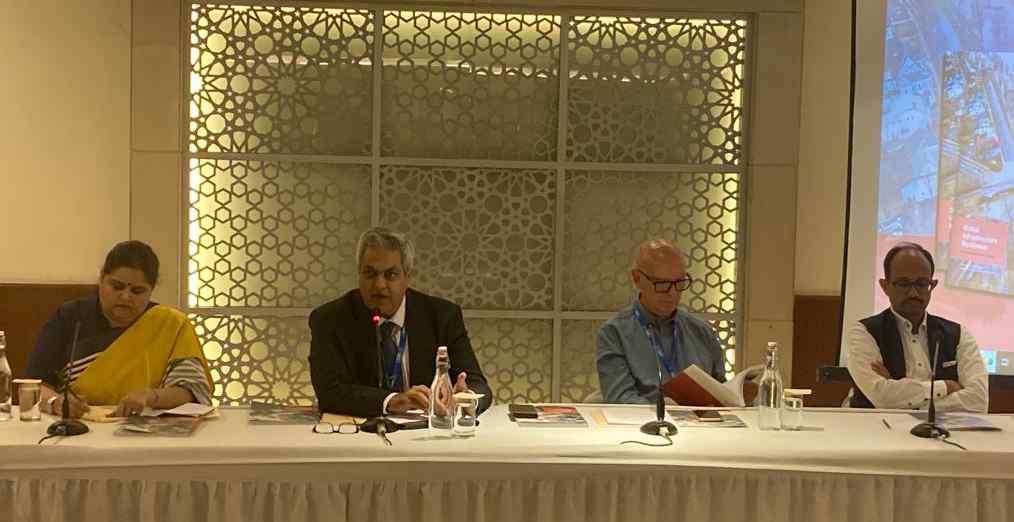 The Report sheds

light

on the 'Resilience Dividend: The comprehensive set of advantages gained from investing in infrastructure capable of withstanding disasters and climate change

The Report includes the first-ever publicly available fully probabilistic risk model - the

Global Infrastructure Risk Model and Resilience Index (GIRI)

which highlights that the global Average Annual Loss (AAL) in infrastructure sectors and buildings is now in a range of US$

732 – US$

845 billion taking into account climate change, which implies that 14% of 2021 - 2022 GDP growth is at risk
The Report highlights tha

t

the annual investment required to address the infrastructure deficit, achieve the SDGs, achieve net zero, and strengthen resilience by

2050 amount to $9.2 trillion, of which $2.84 - $2.90 trillion must be invested in LMICs

.
New Delhi, 4 October 2023: The Coalition for Disaster Resilient Infrastructure (CDRI) launched its flagship initiative - Biennial Report on Global Infrastructure Resilience: Capturing the Resilience Dividend. The Report was released by Shri Kiren Rijiju, Union Cabinet Minister, Ministry of Earth Sciences, Government of India, at a high-level event.
The Report presents a compelling economic, financial, and political imperative for investing in resilience, based on a new cutting-edge Global Infrastructure Risk Model and Resilience Index (GIRI). GIRI is the first publicly available and fully probabilistic risk model to estimate risk for infrastructure assets with respect to most major geological and climate-related hazards.
Commenting on the significance of the Biennial Report, Amit Prothi, Director General, CDRI said, "The Report brings together a unique body of evidence to unpackage the 'Resilience Dividend' making a compelling economic, political, and financial case to radically upscale investment in infrastructure. It lays out the challenges which when addressed can become the pathways to resilient infrastructure."
Kamal Kishore, Member and HoD, NDMA and Co-Chair Executive Committee, CDRI said, "The Report is accompanied by a tool which countries can use to do deep dive analysis to inform their decision making, inform their infrastructure investment decisions, invest in resilience, and build infrastructure systems that last long and serve generations to come."
The Report emphasizes on Nature-based Infrastructure Solutions (NbIS) as a novel and pragmatic approach for infrastructure resilience, along with the need to facilitate development of coherent National Resilient strategies and project pipelines that effectively transform risk into resilience.
The Coordinating Lead Author of the Report, Andrew Maskrey said, "Governments can use this Report to understand the risk they face, and to realize that it is critical to ensure that all future infrastructure is fully resilient. The Report takes climate change into account and provides recommendations on strengthening resilience."
Amee Misra, Senior Economist and Head of Policy, UNDP in India said, "With its comprehensive analysis of infrastructure resilience for every country, the Global Infrastructure Resilience Report is poised to inform the development of national resilience policies, strategies, and plans."
Analyzing 9 infrastructure sectors across 6 hazard types, some of the Key Findings of the Report reveal that:
Approx. 30% of the AAL is associated with hazards like earthquakes & tsunamis whereas 70% is associated with climate related hazards like cyclones, floods, storms etc.

The risk is not spread equally across sectors - approx. 80% of the risk is concentrated in the power, transport, and telecommunications sectors.

Capital investment in an infrastructure asset only accounts for 15 – 30% of overall expenditure over its design lifecycle while up to 70 - 85 % of the expenditure is attributable to O&M.

Average costs of Nature-based Infrastructure Systems (NbIS) are only 51% of grey infrastructure projects.

Countries with the largest infrastructure deficit also carry the highest risk.

67% of the global value of infrastructure assets is concentrated in high-income countries. Upper and lower middle-income countries account for 24.8% & 7.0%, and low-income countries for 0.6 %. However, Low-and Middle-Income Countries (LMICs) carry the highest relative risk with a relative AAL of between 0.31 and 0.41 % compared to 0.14 % in high income countries.

High-income countries could witness an increase in AAL by 11% due to climate change; the figure could increase by 12 to 22% in middle-income and 33% in low-income countries.
CDRI places this Report at the service of governments, investors, and other stakeholders with an intention to further the dialogue on how to implement its key recommendations and for deepening global collaboration towards the common goal of strengthening infrastructure resilience.
About CDRI
Launched by Hon. Prime Minister of India, Shri. Narendra Modi at the UN Climate Action Summit at New York on 23 September 2019, the Coalition for Disaster Resilient Infrastructure (CDRI) is a partnership of national governments, UN agencies and programmes, multilateral development banks and financing mechanisms, the private sector, and academia that aims to promote the resilience of new and existing infrastructure systems to climate and disaster risks in support of sustainable development.
For further queries, please contact:
Mallika Srinivasan (M): 98180 94372 | mallika.srinivasan@cdri.world
Haimanti Mukherjee (M): 8826540253 | haimantim@avianwe.com