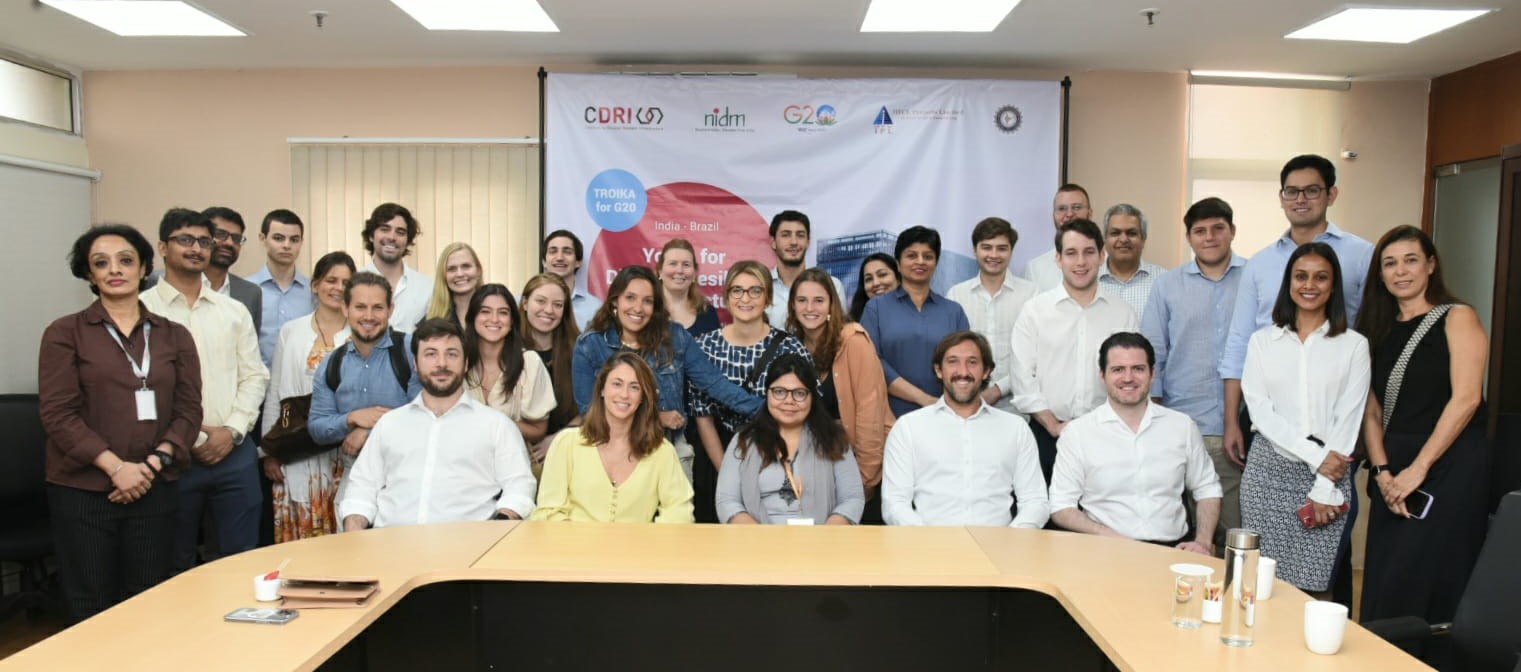 17 May 2023, New Delhi: A 35-member team from Brazil and other Latin American countries visited the Coalition for Disaster Resilient Infrastructure (CDRI) under a G20 Disaster Risk Reduction Working Group initiative 'Troika Youth for Disaster Risk Reduction & Disaster Resilient Infrastructure'. The delegation included Ms Daniela de Rogatis, Founder of Legado and the Head of the Delegation; Ms Mrinalini Shrivastava, Director (G20), National Disaster Management Authority (NDMA); and Dr Sushma Guleria, Assistant Professor, National Institute of Disaster Management (NIDM).
CDRI shared its youth-centric initiatives, which are playing a pivotal role in promoting disaster resilient infrastructure. These initiatives include the Fellowship Programme, which facilitates transformative, actionable, and scalable solutions for real-world issues of DRI; the IRAX initiative, which aims to develop a global network of academic institutions promoting resilient infrastructure; and the Young Professionals Programme, which recognizes the importance of investing in youth as vital stakeholders for a more resilient future.
CDRI also shared insights on its other ongoing projects in Power, Transport, Telecom, Health and Urban infrastructure sectors, and the programme for SIDS - Infrastructure for Resilient Island States.
"The unprecedented challenges posed by climate uncertainties and increasing frequency and impact of disasters make it imperative for countries to work collaboratively. As part of our mandate to ensure a more resilient future, CDRI is focused on youth initiatives that can facilitate shaping a robust and resilient future," said Mr. Amit Prothi, Director General, CDRI.
To showcase sustainable and resilient infrastructure practices in large infrastructure projects, the Delegation also visited the flagship Regional Rapid Transit System project, connecting Delhi and Meerut on May 16, being built by the National Capital Region Transport Corporation (NCRTC), a joint venture between Govt. of India and the states of the NCR region.
Prime Minister Modi has spearheaded the formation of the Coalition for Disaster Resilient Infrastructure (CDRI), which focuses on resilient infrastructure that can withstand and recover from the impacts of natural disasters. CDRI aims to promote research, knowledge sharing, and capacity-building for disaster resilient infrastructure. Through CDRI, Prime Minister Modi has emphasized the importance of planning and implementing sustainable and resilient infrastructure at the ongoing G20 Summit in India.
About CDRI
Launched by Hon. Prime Minister of India, Shri. Narendra Modi at the UN Climate Action Summit at New York on 23 September 2019, the Coalition for Disaster Resilient Infrastructure (CDRI) is a partnership of national governments, UN agencies and programmes, multilateral development banks and financing mechanisms, the private sector, and knowledge institutions that aims to promote the resilience of new and existing infrastructure systems to climate and disaster risks in support of sustainable development. CDRI promotes rapid development of resilient infrastructure to respond to the Sustainable Development Goals' imperatives of expanding universal access to basic services, enabling prosperity and decent work.
For further queries, please contact:
Mallika Srinivasan (M): 98180 94372 I mallika.srinivasan@cdri.world
Preeti Sehrawat (M): 9711170599 I preeti@avianwe.com