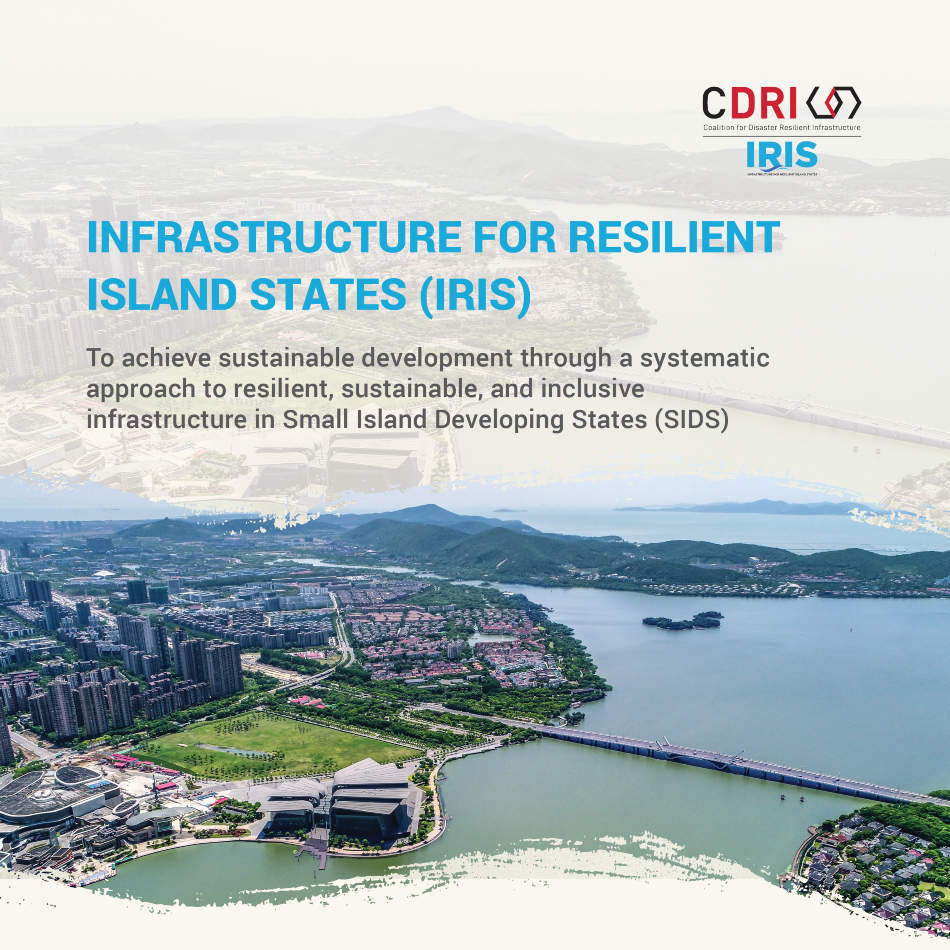 For Immediate Release
CDRI awards 11 projects in 13 SIDS across the Caribbean, Pacific and Indian Ocean Regions
31 October 2023, New Delhi: The Coalition for Disaster Resilient Infrastructure (CDRI) has awarded 11 projects across 13 Small Island Developing States (SIDS) as part of its commitment to help the most vulnerable by making infrastructure systems disaster and climate resilient. The projects have been awarded under CDRI's Infrastructure for Resilient Island States (IRIS) initiative and will focus on Multi-Hazard Early Earning System, Retrofitting Housing Strategy, Climate Resilient Transport Infrastructure, and Piloting Disaster Risk Insurance Scheme amongst others.
The awarded projects were announced yesterday at CDRI's first regional conference, ICDRI Americas, held in partnership with the U.S. Agency for International Development (USAID) and Miyamoto International, in Washington, D.C.
The IRIS' First Call for Proposals was announced at COP27 in Egypt last year by the Environment Ministers of India and Mauritius and the Minister of Economic Growth and Job Creation of Jamaica. CDRI received 50 Expressions of Interest (EOIs) across 28 SIDS, from which 11 projects were selected across 13 SIDS. CDRI will provide technical and financial support as part of its endeavour to deliver resilient and climate adaptation solutions to the SIDS, which are among the most vulnerable and exposed countries.
Kamal Kishore, Member & HoD, NDMA and Co-chair Executive Committee, CDRI said, "IRIS was launched to work with Small Island Developing States (SIDS) in making their infrastructure systems resilient. This is the beginning to turn the ideas to action on the ground and make a difference to the people in the Small Island Nations who are already facing the brunt of climate change impact. It is ultimately about the people and if people benefit from the work we do, it is a success."
Amit Prothi, Director General, CDRI said, "SIDS are susceptible to very high, relative, economic losses due to disasters with the average annual loss ranging from 1 to 10 percent of their GDP. Resilient infrastructure can play a key role in mitigating these challenges. It's a proud moment for us to award 11 projects across 13 SIDS under the IRIS initiative and accelerate action towards achieving SDGs with resilient, sustainable, and inclusive infrastructure in the small island nations. With concrete initiative on ground, CDRI is committed to continue its work for realizing the ambition that was set out by our Prime Minister and other Prime Ministers at COP26."
H.E. Mr. Seppo Nurmi, Chargé d'affaires, Delegation of the European Union to India said, "Development of resilient infrastructure is critical to limit the impact of climate change, especially in developing countries. The EU is happy to support CDRI's commitment towards the small island developing states (SIDS). The projects awarded by CDRI will concretely support SIDS in addressing critical resilient infrastructure issues."
Alex Ellis, British High Commissioner to India, said, "I welcome the announcement of the support to 13 Small Island Developing States under the Infrastructure for Resilient Island States programme at the G20 Summit. From the joint launch at the COP26 climate conference in Glasgow to its implementation now, the UK is proud to partner with CDRI and India to support countries that are most vulnerable to climate change."
Philip Green, Australian High Commissioner to India, said, "Australia is proud to be a founding member of CDRI and to support its IRIS initiative, which will support climate and disaster resilience in the Indo-Pacific. We welcome the selected projects and are pleased to continue working with our partners on initiatives that promote quality, sustainable and resilient infrastructure."
IRIS was launched at the World Leaders Summit, COP26, by the Honourable Prime Ministers of India, Australia, the United Kingdom, Fiji, Mauritius, and Jamaica.
About CDRI:
Launched by Hon. Prime Minister of India, Shri. Narendra Modi at the UN Climate Action Summit at New York on 23 September 2019, the Coalition for Disaster Resilient Infrastructure (CDRI) is a partnership of national governments, UN agencies and programmes, multilateral development banks and financing mechanisms, the private sector, and academia that aims to promote the resilience of new and existing infrastructure systems to climate and disaster risks in support of sustainable development.
For further queries, please contact:
Mallika Srinivasan | (M): +91 9818094372 | mallika.srinivasan@cdri.world
Haimanti Mukherjee | (M): +91 8826540253 | haimantim@avianwe.com
For more information: IRIS (cdri.world)