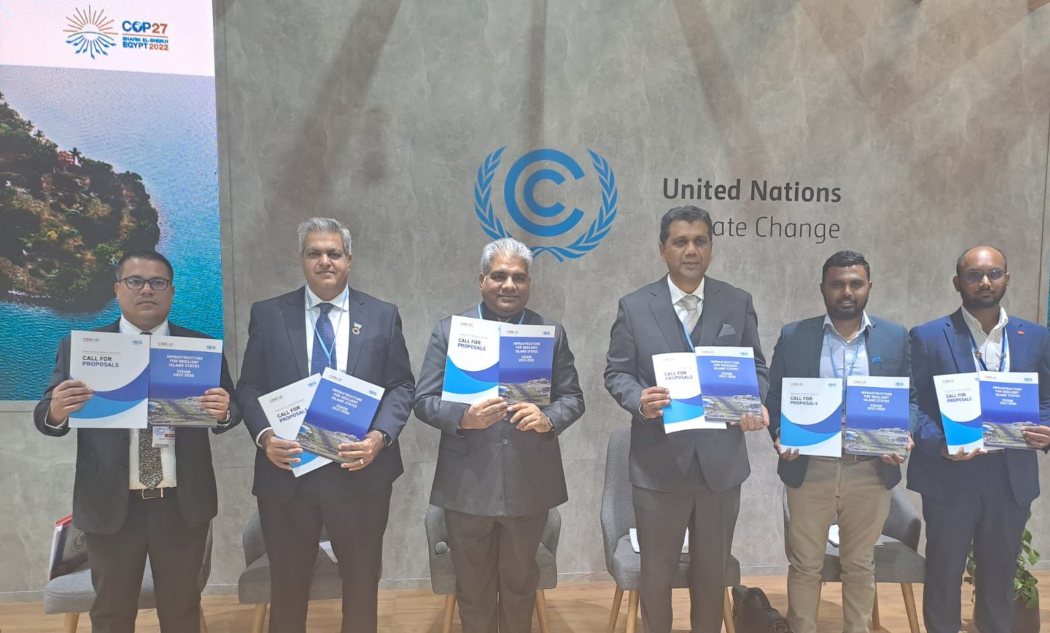 New Delhi, 17 November 2022: The Coalition for Disaster Resilient Infrastructure (CDRI) today announced the first 'Call for Proposals' for Infrastructure Resilient Island States (IRIS), a CDRI strategic initiative to support infrastructure resilience in Small Island Developing States (SIDS), at the UNFCCC Pavilion, COP27, Sharm El Sheikh, Egypt.CDRI, with support from members countries, organizations, and SIDS representatives launched IRIS at the World Leaders Summit at COP26. IRIS promotes resilient, sustainable, and inclusive infrastructure development in small island countries. The IRIS 'Call for Proposals' has been designed to channel support in SIDS through projects based on key themes that emerged from extensive consultations and inputs from SIDS stakeholders. The key themes are risk informed policy & planning, implementation readiness, access to finance, and inclusion mainstreaming.
Shri. Bhupender Yadav, Honourable Minister for Environment, Forest and Climate Change, Government of India said "It is a pleasure to present the vision of IRIS to a global audience and announce the first call for proposals of IRIS. The Government of India stands firmly committed to safeguard the interest of SIDS. Through IRIS, India is putting to action its belief in 'Vasudhaiva Kutumbakam', world is one family. CDRI or IRIS is not just a matter of infrastructure, but it is a part of the most sensitive responsibility of human welfare. It is the collective responsibility of all of us towards mankind."
Mr. Kavydass Ramano, Honourable Minister for Environment, Solid Waste Management and Climate Change, Government of Mauritius said "Mauritius is highly vulnerable to the increasing impacts of climate change. The World Risk Report ranked it amongst the most exposed country to climate change. Climatic events are impacting our infrastructure, including roads, bridges and buildings. This is why Mauritius championed IRIS from COP26 and is committed to provide all possible support to make this initiative a global success for the benefit of all SIDS."
Senator The Hon. Mathew Samuda, Minister without Portfolio in the Ministry of Economic Growth and Job Creation, Government of Jamaica said "I congratulate CDRI on the launch of call for proposals. It presents a unique opportunity to tap into a larger pool of resources, strengthen policy frameworks and, allow countries to benefit from the convening ability of CDRI to enhance strategic partnerships and build capacity."
The Represenatives from Government of Fiji and Association of Small Island States (AOSIS), highlighted the need for robust action in building resilience of critical infrastructure in SIDS and the immediacy of the need for an intiative like IRIS, as resilience is equivalent to survival for SIDS.
Mr. Amit Prothi, Director General, CDRI said "IRIS will support programs in SIDS through technical assistance, capacity building and, knowledge sharing. This shows CDRI's commitment to SIDS, who are the most impacted by climate change. Our focus will be to unlock additional financing, raising awareness of the challenges, and bring in new capacity to address the challenges of climate adaptation."
The Call for Proposals is open to all 58 Small Island Developing States' national government ministries or agencies with a mandate in disaster and climate resilience, and/or infrastructure planning, financing, and implementation. For further details, please visit IRIS.cdri.world
About CDRI
Launched by Hon. Prime Minister of India, Shri. Narendra Modi at the UN Climate Action Summit at New York on 23 September 2019, the Coalition for Disaster Resilient Infrastructure (CDRI) is a partnership of national governments, UN agencies and programmes, multilateral development banks and financing mechanisms, the private sector, and knowledge institutions that aims to promote the resilience of new and existing infrastructure systems to climate and disaster risks in support of sustainable development.
CDRI promotes rapid development of resilient infrastructure to respond to the Sustainable Development Goals' imperatives of expanding universal access to basic services, enabling prosperity and decent work.