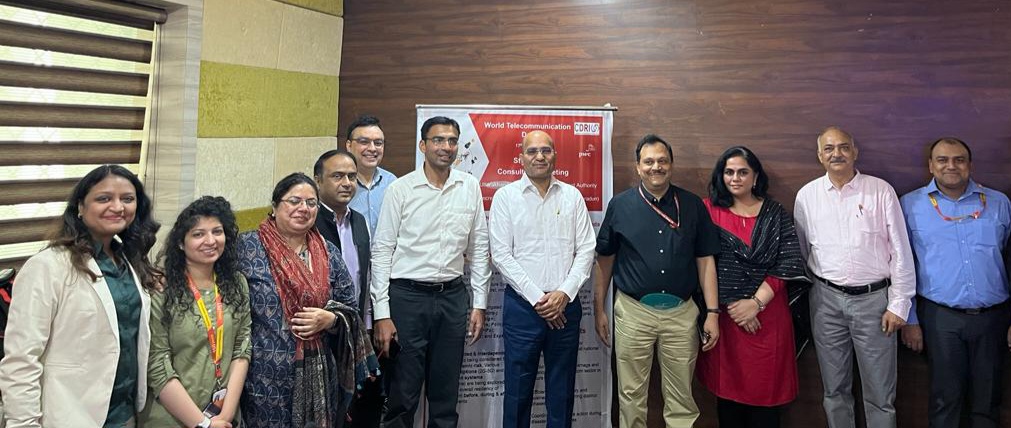 17 May 2023, Dehradun, Uttarakhand: On the occasion of World Telecom Day, a series of multistakeholder discussions were held between the Coalition for Disaster Resilient Infrastructure (CDRI), the Department of Telecommunications (DoT India) and Uttarakhand State Disaster Management Authority (USDMA) with a focus on building disaster resilience in the Telecommunications Sector in India. The meetings, which were aimed at creating a National Framework for Disaster Resilience for the telecom sector were conducted at the State Emergency Operation Center (SEOC), Dehradun.
The objective was to gather perceptions from diverse stakeholders for an ongoing project focusing on developing a Disaster Risk & Resilience Assessment Framework (DRRAF). The project is being conducted by CDRI in collaboration with DoT India under the guidance of the National Disaster Management Authority (NDMA) and aims to enhance the resilience of the Indian Telecom Sector at the National and state level for selected states in India, including Uttarakhand.
The meeting, which was chaired by Dr. Ranjit Kumar Sinha, Secretary, Uttarakhand State Disaster Management Authority (USDMA), also had stakeholders including Shri Sanjay Agrawal, Deputy Director General, Disaster Management Wing, DoT, who provided insights on the project overview and the envisaged outcomes of the study. PricewaterhouseCoopers Pvt Ltd. (PwC India), which is executing the project delivered a brief presentation on the key project highlights to participants from the line departments to capture their inputs and feedback.
Representatives including Mr. Savin Bansal, Additional Secretary, USDMA; Dr. Piyoosh Rautela, Executive Director, Disaster Mitigation & Management Center (DMMC); Ashok Kumar Rawat, DDG (C), LSA, Uttarakhand and various departments including Indian Institute of Remote Sensing (IIRS), UPCL, PWD, Fire and Emergency Services Department, ITDA, Health, Forest Department & UCOST participated in the consultation.
About CDRI
Launched by Hon. Prime Minister of India, Shri. Narendra Modi at the UN Climate Action Summit at New York on 23 September 2019, the Coalition for Disaster Resilient Infrastructure (CDRI) is a partnership of national governments, UN agencies and programmes, multilateral development banks and financing mechanisms, the private sector, and knowledge institutions that aims to promote the resilience of new and existing infrastructure systems to climate and disaster risks in support of sustainable development.
CDRI promotes rapid development of resilient infrastructure to respond to the Sustainable Development Goals' imperatives of expanding universal access to basic services, enabling prosperity and decent work.
For further queries, please contact:
Mallika Srinivasan (M): 98180 94372 I mallika.srinivasan@cdri.world
Preeti Sehrawat (M): 9711170599 I preeti@avianwe.com