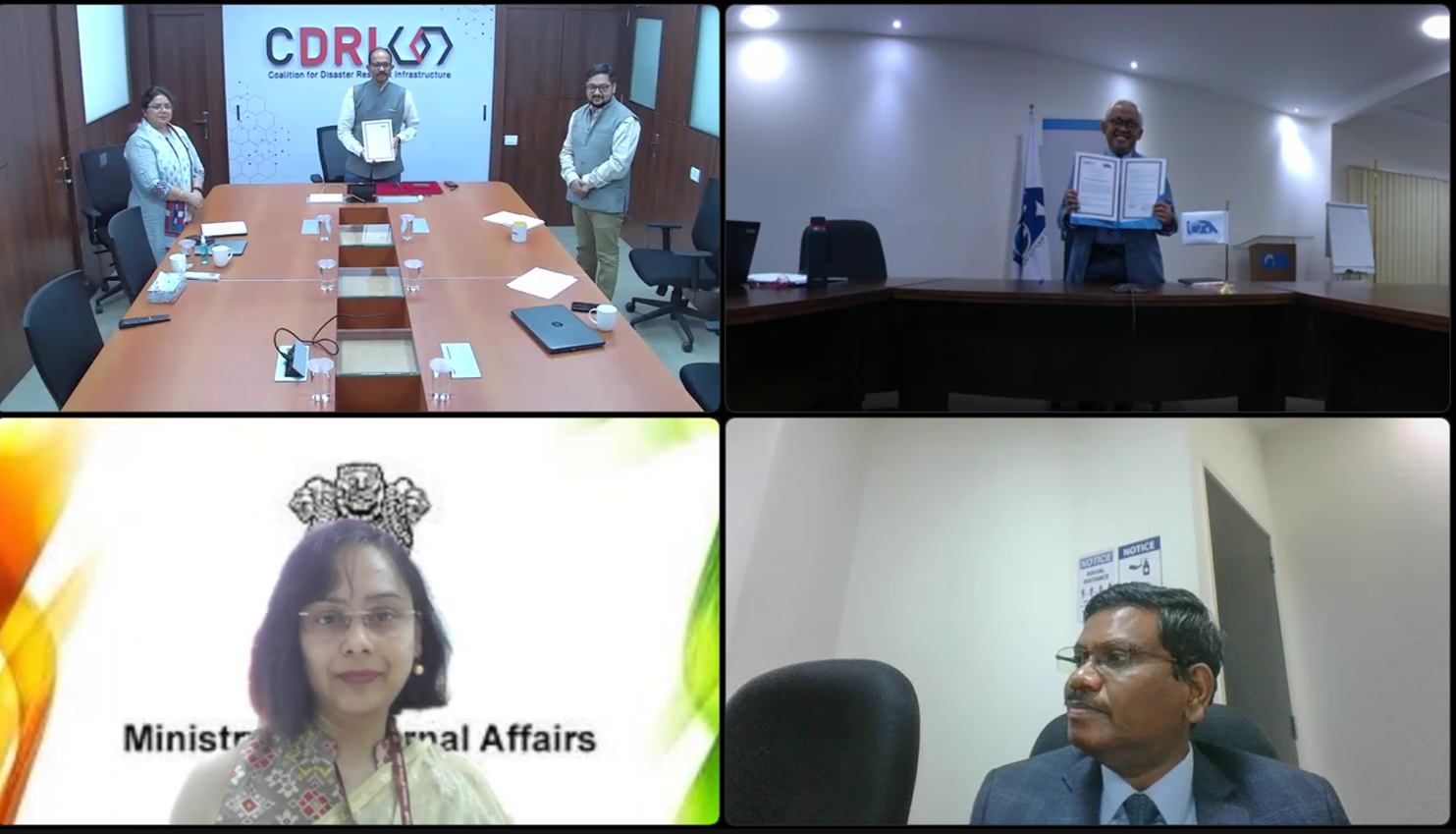 The Coalition for Disaster Resilient Infrastructure (CDRI) signed a Memorandum of Understanding (MoU) with the Indian Ocean Rim Association (IORA) today for promoting resilience of new and existing infrastructure to climate and disaster risks within the Indian Ocean Region. The signing ceremony was held virtually in the presence of the Secretary-General of IORA, H.E. Ambassador Salman Al Farisi, and Member Secretary, National Disaster Management Authority India and CDRI Executive Committee Indian Co-chair Mr. Kamal Kishore.
The purpose of the partnership is to establish cooperation to build climate and disaster resilience in existing and future infrastructure with forum members of IORA and CDRI Member States in the Indian Ocean region. The MoU proposes the extension of technical and capacity building support and, development of a knowledge repository, including strengthening Communities of Practice, digital engagement and learning platforms, for member countries of the associations. Considering that disasters frequently occur within the region, enhanced cooperation is essential including the sharing of best practices between IORA Member States to meet mitigation, response, and recovery coordination strategies.
During the virtual signing ceremony, H.E. Ambassador Al Farisi highlighted the timely engagement with the CDRI to strengthen IORA's priority area of Disaster Risk Management (DRM) and to identify emerging areas of assistance and build human, institutional and technical capacities at national, regional, and local levels to foster the development and implementation of plans and projects focused on climate and disaster resilient infrastructure among IORA members. ''now more than ever, our efforts to build back better resilient communities are crucial and we must establish concrete actions.'' said H.E. Al Farisi. IORA recognizes DRM to be a multidisciplinary concept involving the participation of a multitude of stakeholders, including national governments, non-governmental organizations, regional and international partners, donors, civil society and the private sector.
As the Coordinating country for IORA's priority area of Disaster Risk Management, India welcomed the signing of the MoU between IORA and CDRI in the area of Disaster Risk Management which was proposed by India during the 20th IORA COM in 2020. Speaking at the Virtual Signing Ceremony, Joint Secretary (Indo-Pacific) of Ministry of External Affairs, Ms. Geetika Srivastava expressed India's confidence that this engagement between IORA and CDRI has laid down a strong institutional basis for promoting resilience of new and existing infrastructures to climate and other disaster risks in the Indian Ocean Region and would help to realize our common objectives of a peaceful, safe, and resilient Indian Ocean region.
CDRI Executive Committee Indian Co-chair Mr. Kamal Kishore, acknowledged the detrimental impacts of natural and man-made hazards to economic, social, and healthcare development frameworks within the region. Mr. Kamal Kishore added that, "It is a testament to the commitment and collaborative efforts of CDRI towards the Indian Ocean Region that we can sign this MoU. Promoting the resilience of infrastructure systems to climate and disaster risks will help save lives and livelihoods in the region and will benefit communities and states by creating a more resilient future for all. Through evidence based technical support, research, knowledge sharing, advocacy, capacity building and other related activities, this cooperation will ensure sustainable development in the member states of IORA."
CDRI is a multi-stakeholder global partnership of national governments, United Nations (UN) agencies and programmes, multilateral development banks and financing mechanisms, the private sector, and academic and knowledge institutions. It seeks to rapidly expand the development and retrofit of resilient infrastructure to respond to the Sustainable Development Goals imperatives of expanding universal access to basic services, enabling prosperity and decent work.