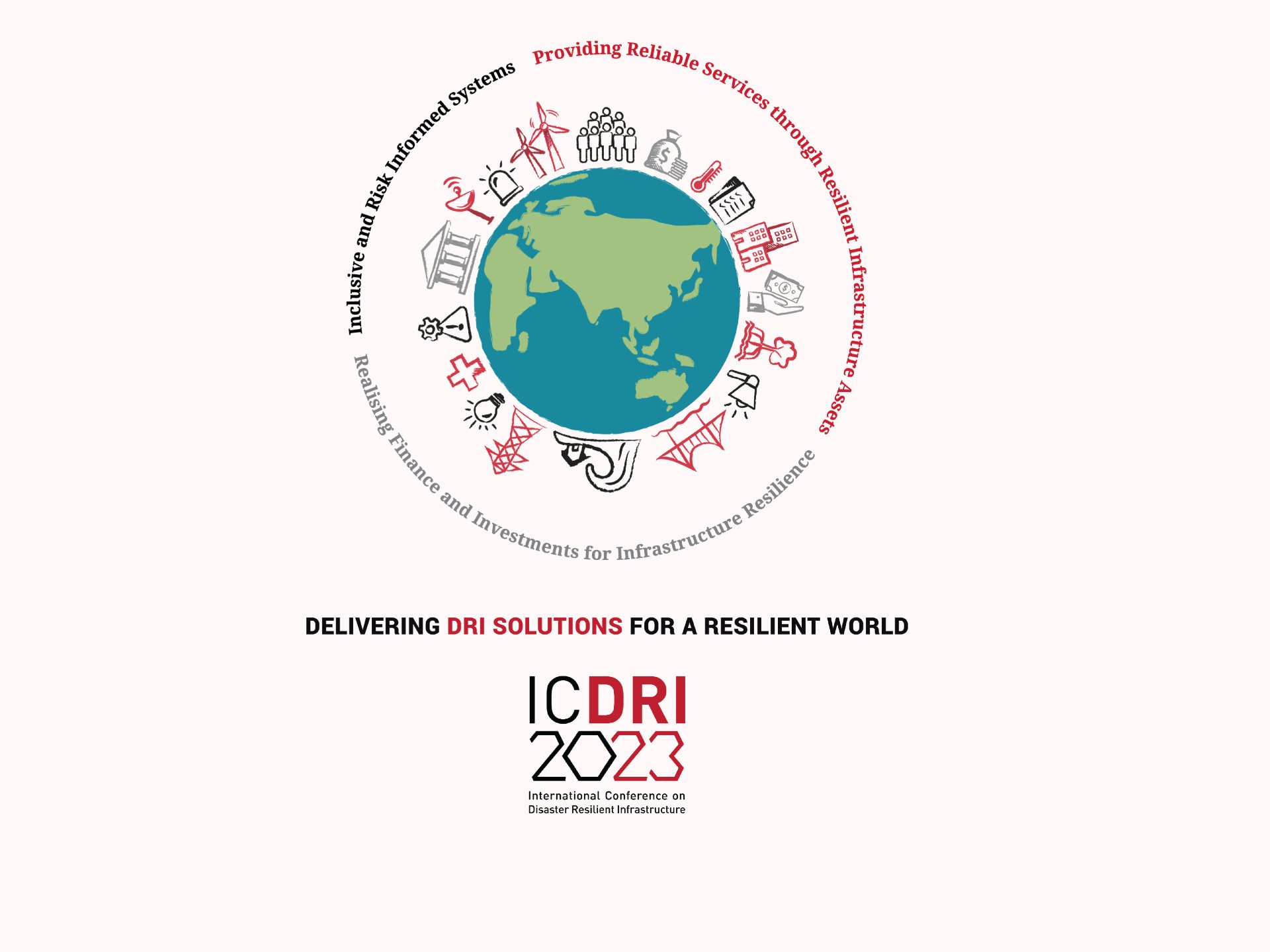 Theme: Delivering Resilient and Inclusive Infrastructure: Pathways for Risk Informed Systems, Practices and Investments
Format: Hybrid
Date: 4-5 April
Place: New Delhi, India
Register here: ICDRI Registration
The International Conference on Disaster Resilient Infrastructure (ICDRI) is the annual conference of Coalition for Disaster Resilient Infrastructure (CDRI) and its partners. It brings together member countries, organizations, institutions and infrastructure actors and stakeholders to strengthen the global discourse on disaster and climate resilient infrastructure.
ICDRI 2023 will engage decision-makers, thought leaders, academia and institutions from across the world working on solutions for infrastructure resilience. The conference programme will be an opportunity to explore, share and identify tangible solutions and actions to mainstream resilience principles into sector wide policies, processes, and practices across different stakeholder groups. The conference will enable members, infrastructure actors, partners, and stakeholders to engage with effective partnerships, existing models, good practices, and lessons learned on infrastructure resilience to make informed decisions across the life cycle of infrastructure assets and their overarching governance and financing frameworks.
The need for ICDRI:
In today's world, more people than ever are dependent on the services delivered by critical infrastructure systems, covering energy, transport, water, wastewater and solid waste management, digital communications, and others. Infrastructure must then be sustainable, resilient, and inclusive to realize the desired social and environmental impacts underpinned by medium- to long-term economic gains providing for access to safer and improved livelihoods and quality of life.
There is a need to recognize, and design solutions that make functional and resilient new infrastructure and enable upgradation of existing infrastructure. An enabling ecosystem for inclusive, climate and disaster resilient infrastructure must be supported by responsive policy and governance, technology and innovation, knowledge exchange and capacity development, and sustainable financing. The solutions and pathways to embed and achieve resilience of infrastructure thereof must then be collaborative, futuristic, adaptive and risk informed.
The ICDRI 2023 will focus on charting these solutions and pathways to 'Shaping Resilient Infrastructure', delving into practices of creating risk-informed systems, resilient infrastructure assets and innovative financing to deliver infrastructure needs. The conference will feature the progress on the Biennial Report on Global Infrastructure Resilience, the collaborative delivery mechanism of IRIS with SIDS, operationalization of IRAF – multi-partner trust fund for DRI, and feature the launch of the DRI Academic Network and Partnership.
The objectives of ICDRI 2023:
To provide a platform for member countries to engage and contribute to DRI solution pathways.
To bring together infrastructure actors for building partnerships, knowledge sharing and fostering complementarity on DRI solutions.
To convene DRI stakeholders for enhanced collective action on infrastructure resilience.
Thematic Focus of ICDRI 2023:
ICDRI 2023 will bring to fore demonstrated practices and solutions, delving into systems, practices, and finances, that enable provisioning of resilient infrastructure to people and economies across different geographies, climate typologies and infrastructure sectors.
Pillar 1: Delivering Resilient Infrastructure – Inclusive and Risk Informed Systems
Pillar 2: Delivering Resilient Infrastructure – Providing Reliable Services through Resilient Infrastructure Assets
Pillar 3: Delivering Resilient Infrastructure – Realising Finance and Investments for Infrastructure Resilience
Join Us!
Register here: ICDRI Registration