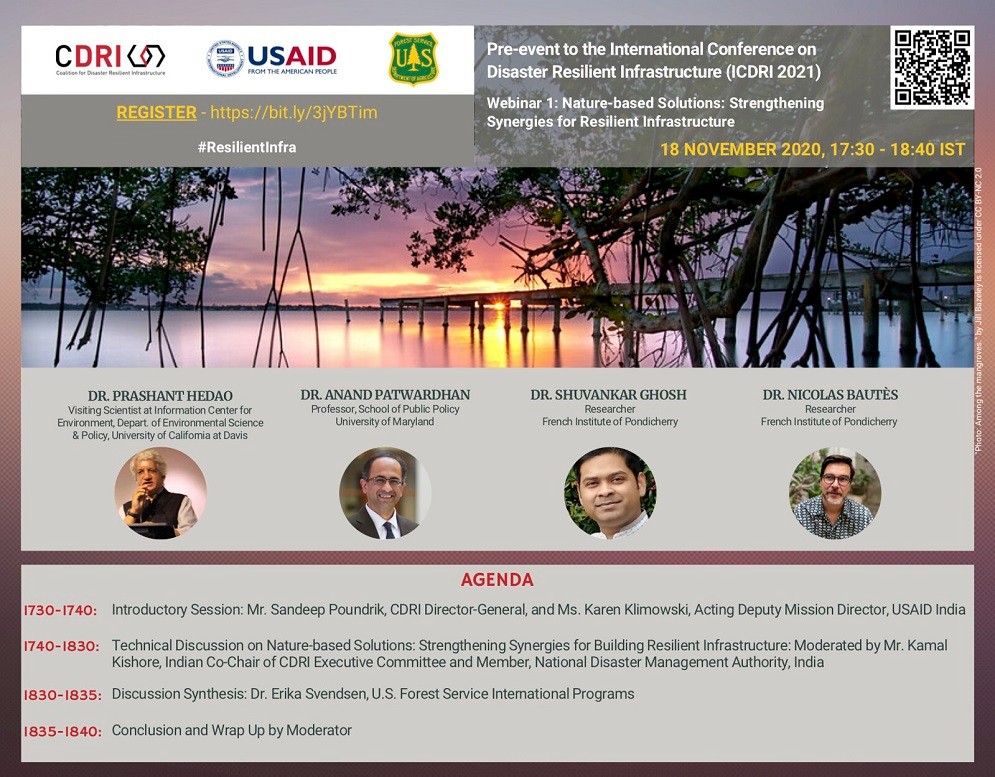 NEW DELHI, 18 November 2020 – Nature-based solutions (NBS) can play a significant role in reducing disaster risk and enhancing infrastructure resilience and the increased need for a stronger international focus and cooperation for promoting NBS.
To explore NBS contributions further and capture fresh insights, the Coalition for Disaster Resilient Infrastructure (CDRI) is organizing a webinar on 18 November 2020, 1730 - 1840 hrs IST on the theme of nature-based solutions in partnership with the U.S. Agency for International Development (USAID) with technical assistance from U.S. Forest Service International Programs (USFS-IP).
Organizations and individuals are encouraged to join this timely discussion on ways to promote nature-based solutions and strengthen synergies and collaborative partnerships for much-needed resilient infrastructure. Register here: https://bit.ly/3jYBTim
Panelists
"Introduction and Planning Overview of Nature-based Solutions" - Dr. Prashant Hedao, Visiting Scientist at Information Center for Environment, Department of Environmental Sciences and Policy, University of California, Davis.
"Role of Policy in Advancing Nature-based Solutions" - Dr. Anand Patwardhan, Professor, University of Maryland.
"Reflections from the Field: Spatio-Temporal Changes in the Pichavaram Mangroves, Tamil Nadu, India; Assessing Severity of Environmental Threats and Efficacy of Restoration Measures" - Dr. Shuvankar Ghosh and Dr. Nicolas Bautes, French Institute of Pondicherry, India.
Discussion Synthesis - Dr. Erika Svendsen, U.S. Forest Service, International Programs.
Moderator - Mr. Kamal Kishore, Indian Co-Chair of CDRI Executive Committee and Member, National Disaster Management Authority.
The webinar is the first of a series to inform discussions at the third International Conference on Disaster Resilient Infrastructure (ICDRI 2021). ICDRI 2021 will deliberate on international commitments that are significant for building disaster and climate resilient infrastructure. Leading up to ICDRI 2021, the webinar series is being designed around themes that draw synergies with international commitments such as Sustainable Development Goals (SDGs), Sendai Framework for Disaster Risk Reduction (SFDRR) targets and goals of the Paris Agreement on Climate Change and resilient infrastructure.
Nature-based solutions are essential components of the overall global effort to achieve the targets and goals of the SDGs, SFDRR and the Paris Agreement on climate change. NBS uses ecosystem services to address hazards and reduce disaster risk such as flooding, erosion and landslides to protect people and infrastructure. NBS for disaster risk reduction includes ecosystem services such as restoring mangroves along coastlines to reduce the impact of waves and storm surge on the shoreline to prevent flooding and preserving wetlands, forests and floodplains. With increasing environmental degradation some of these natural disaster safeguards are deteriorating, resulting in an increased risk of infrastructure failure. It is imperative to adopt a nature-based approach that promotes infrastructure development and protects and uses these natural safeguards which act as disaster buffers to protect people and infrastructure.
Visit the CDRI website (www.cdri.world) and follow CDRI on Twitter (@CDRI_world) and LinkedIn (@coalition-for-disaster-resilient-infrastructure) to receive the latest updates on CDRI's activities.
About ICDRI
To be held from 17 to 19 March 2021, ICDRI will bring together partner country representatives from national disaster risk management agencies, infrastructure sectors, multilateral development banks, UN agencies, academia and research institutions, the private sector and policy think tanks. CDRI's annual flagship event, ICDRI is organized to continue building the global community for disaster and climate resilient infrastructure in line with the Coalition's mandate. With the establishment of the CDRI Secretariat in 2019, ICDRI is being held in place of the International Workshop on Disaster Resilient Infrastructure (IWDRI) to strengthen global outreach on disaster resilient infrastructure.