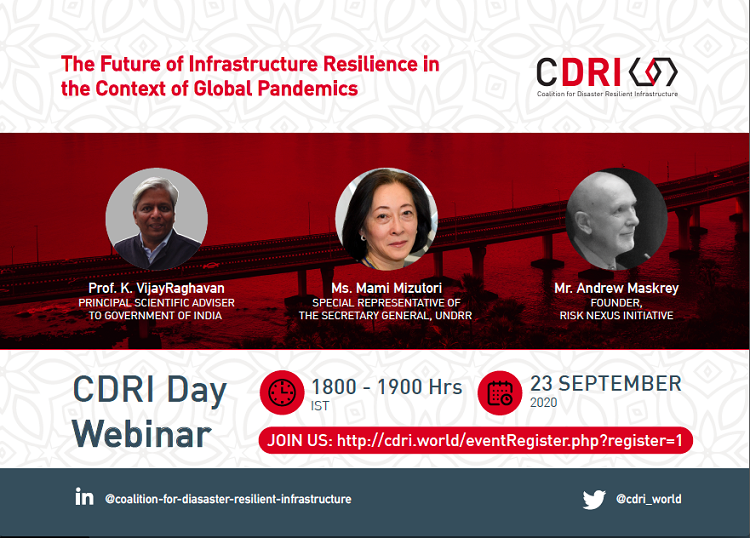 Launched one year ago at the UN Climate Summit in New York City, the Coalition for Disaster Resilient Infrastructure (CDRI) has grown to include 16 countries and three multinational organizations with three others in the process of joining this global partnership to promote resilience of new and existing infrastructure systems to climate and disaster risks.
"Never has our cause to advance resilient infrastructure in the face of ongoing, devastating disasters and climate conditions been greater," said CDRI's Governing Council Co-Chair, Dr. P. K. Mishra. "We look forward to welcoming more countries, like-minded organizations and institutions as members to strengthen the Coalition, which over time will help keep us all safer and increasingly resilient."
CDRI marked its anniversary on Wednesday by conducting the Coalition's first webinar, "The Future of Infrastructure Resilience in the Context of Global Pandemics." Speakers included Mami Mizutori, Special Representative of the UN Secretary General and head of the UN Office of Disaster Risk Reduction (UNDRR), Prof. K. Vijay Raghavan, Principal Scientific Adviser to the Government of India, and Andrew Maskrey, Founder of the Risk Nexus Initiative. The discussion was moderated by Mr Kamal Kishore, Member National Disaster Management Authority, India and Co-Chair of Executive Committee of CDRI.
Within months of India's Prime Minister Shri Narendra Modi announcing the formation of CDRI on 23 September 2019, partners formed a Governing Council and Executive Committee to guide the Coalition's activities, starting with infrastructure issues in the power, telecommunications and transportation sectors.
Among its year-one milestones is the CDRI Fellowship Programme. Introduced on 1 September, the Fellowship encourages students, professors, researchers and community workers from CDRI Member Countries (see list below) to apply ideas on how to keep infrastructure resilient to climate and disaster risks. CDRI will award 30 one-year grants of US$10,000 in one year.
"CDRI is an example to the world of how to strengthen risk governance at the global level for more effective management of disaster risk with a particular focus on the critical infrastructure required to support us through the COVID-19 pandemic and the climate emergency. International cooperation is key to addressing these challenges and CDRI is an excellent role model," said Ms. Mizutori.
The ongoing COVID-19 pandemic has affected many infrastructure sectors. While it has not caused direct damage to infrastructure, it has highlighted the operational vulnerability of many infrastructure sectors. Among the social infrastructure sectors, while the health infrastructure has been on the frontlines of mitigating the impact of COVID-19, other infrastructure sectors such as water and sanitation, transport and telecommunications also are playing a critical role. In the post-COVID-19 period, the notion of resilient infrastructure will have to go beyond asset level risk to look at systems level risk in a fundamentally new way.
Over the past six months, CDRI has repurposed some of the existing tools to apply them for the management of COVID-19. It has also undertaken a documentation of some of the early lessons from the management of COVID-19 in India, which will provide a basis for future action.
On 30 August, the Coalition also started a Power Sector Resilience Study to enhance resilience of power infrastructure in the state of Odisha and eventually inform steps other similar geographic territories could take to cope with disasters, especially those resulting from extreme climatic events.
Looking ahead, CDRI is developing a global study to boost airport disaster resilience and recommend disaster risk management measures in existing and future airports. CDRI has also initiated a biennial "Flagship Report" on Disasters and Climate Resilient Infrastructure focusing on the state of climate and disaster resilient infrastructure, with a specific focus on nature-based solutions. The Report is expected to be released in 2022 with an intermediate output being planned for the Conference of Parties (COP) 26 scheduled next year.